Welcome!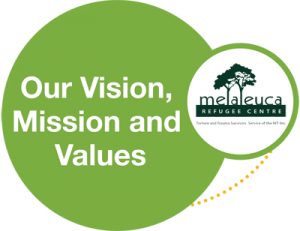 Welcome to Melaleuca, a not-for-profit organisation whose sole purpose for existing is to provide dignifying person-centred humanitarian services to individuals and families from refugee and migrant backgrounds.
For over 21 years, our unique approach to settling clients into the NT has cultivated respect and awareness and inspired acts that support cultural diversity.
As one of Australia's five nationally approved Humanitarian Settlement Providers, we are the first point of contact for refugees entering the "Top End" of Australia. A responsibility that we accept with honour knowing that our actions or inactions can create a lasting impact that transcends generations.
We are also one of the eight specialist rehabilitation agencies across Australia that work with survivors of torture and trauma, supporting individuals from refugee backgrounds.
Melaleuca brings together a range of culturally specific and holistic specialist services and programs that support our client's physical, emotional and social needs, to generate lifelong positive outcomes for the people we serve.
Every day, we provide services to extraordinary people, whose journeys of courage, displacement and experiences of torture and trauma shape their resilience.
Every day, we say welcome and with each welcome a remarkable story unfolds, that strengthens lives and our communities. On behalf of the Board of Management and our colleagues at Melaleuca,
You are welcome.
Alone we can achieve so little…together we can achieve so much
As a small organisation, our capacity to service our clients is underpinned by our long standing collaborative partnerships.
The sharing of information, experience and expertise with individuals, professionals, organisations, communities and other government agencies, ensures our services and programs are of the highest quality, relevant to our clients' needs and result in enduring positive outcomes.
Our approach to cultivating these essential partnerships is to:

Partner with the individuals we serve as experts of their lives and their communities
Contribute to and share wisdom with Specialist networks inclusive of the Forum of Australian Services for Survivors of Torture and Trauma (FASSTT) as well as a Refugee Services Community of Practice, informing service improvement to our clients

Open new avenues for clients to access a range of services by creating new networks and supporting existing networks
Influence other organisations, individuals and communities to transform and grow inclusion and increased access that connects the people we serve with the wider community, in line with their outcomes

Build a strong volunteer base
We thank our patrons, Mrs Sue Roman, Reverend Bishop Eugene Hurley DD and Sir Francis Gerald Brennan, AC,KBE, QC for their generous support of our organisation.